Mobile Home Park in Spiddal Galway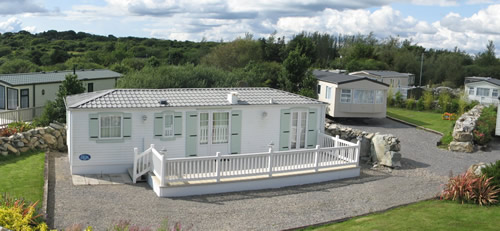 Our private mobile home park is a small tranquil park. We have approx. seventy mobie homes, which are of a wide range. We are a very unqie park in regards to our location and layout. Some sites are landscaped and very spacious with the space between each mobile home greatly exceeding the regularity requirements. We make use of the natural beauty of the untouched connemara landscape to enhance our park. Some of our sites have their own walled gardens. The Boluisce River flows through our park. Each mobile by the river bank is elevated to avoid any risk of flooding and being located in a valley gives shelter and privacy.
The infrastructure and related services are of a very high specification. The lawns and general maintenance of the park's up-keep is on-going through summer and winter.
It is a non-residential park for holiday purposes only. This is not a residentail park.
As we live on site your safety, security and personal service can be assured. Decking for mobiles and garden sheds are some of the services you may wish to have on your site. Services include CCTV security, security gates and laundry, parking and refuse facilities. We are also an agent for Calor Gas, with refills available for your convenience.
Would you like a home away from home?
There are many different types and ranges of mobile homes and we cater to every taste. Select between two-bed roomed or three-bed roomed mobiles with living area, kitchen and bathroom. Choose between single or double-glazed, central or electrical heating and the choice of a deck or garden shed. We are here to help you choose the mobile that is ideal for you and your family.
We sell homes on fully serviced sites. Each mobile home is fully serviced with electricity, television aerial reception, gas (some piped-gas), fully sewered. You own your mobile home and pay an annual licence fee for the site,fees, services and maintenance. General terms and conditions of our park apply to all clients. Dogs are welcome on our park as long as park rules are kept.
A holiday home you can afford
Buy your own holiday home from as little as €12,000. We have very good quality mobile homes suitable for young families – a home away from home – The perfect location for a you to experience the freedom of a home from home in a rural, stress free environment.
If you are interested or considering buying a mobile home we strongly recommend a park visit and we will be happy to arrange a viewing. Visiting us couldn't be easier as we are so accessible by the M6 motorway that links one end of the country to the other.