At present we have very good value on used mobile homes on our park.  All the mobile homes are good quality homes, some with double-glazing and central-heating for winter conditions.  We have good starter mobile homes at very reasonable prices for first time buyers. Mobile Homes become available as present clients often up-grade to a more private site or up-grade to a more luxurious, lavish home.  See our park section for more information.
Tá a lán cineálacha agus réimsí tithe soghluaiste ar fáil agus freastalaímid ar gach cineál spéise. Tá rogha agat idir tithe soghluaiste dhá sheomra nó trí sheomra codlata ina bhfuil spás cónaithe, cistin agus seomra folctha.  Tá réimse sonraíochtaí ar fáil, ar nós fuinneoga aonghloinithe nó déghloinithe, teas lárnach nó leictreach agus rogha de dheiceáil nó seid gairdín.  Táimid ar fáil chun cuidiú leat an teach soghluaiste is fearr duit féin agus dod theaghlach a roghnú.
Díolaimid tithe soghluaiste ar láithreáin atá seirbhísithe go hiomlán. Tá gach teach soghluaiste seirbhísithe go hiomlán le leictreachas, teilifís agus aeróg, gás, uisce agus córas iomlán séarachais.  Beidh úinéireacht agat ar do theach soghluaiste agus íocfaidh tú táille ceadúnais bhliantúil ar an gceapach, na seirbhísí agus an chothabháil.  Tá téarmaí agus coinníollacha ginearálta ár bpáirce i bhfeidhm do na cliaint go léir agus athnuaitear iad go bliantúil.   Tá lánchead madraí a bheith inár bpáirc a fhad is go gcloítear leis na rialacha.
Mobile Homes for Sale on the Park
Need a Mobile Home?
We sell mobile homes off site-to take away to your own site. We stock a wide range of second hand, good quality mobile homes. We have mobile homes that are double-glazed and central heated particularly suited to winter living conditions.
Buying a mobile home is ideal for temporary accommodation – For example:
While you are building your own house
If you have a private site.
Extra space for visitors or study purposes, etc.
A less expensive solution to rental accommodation.
For storage.
All mobile homes are tested for gas, water, electricity before delivery. Prices start from €2,500 for second hand mobile homes. You can come and view our mobile homes by appointment.
Mobile Homes for Sale off Site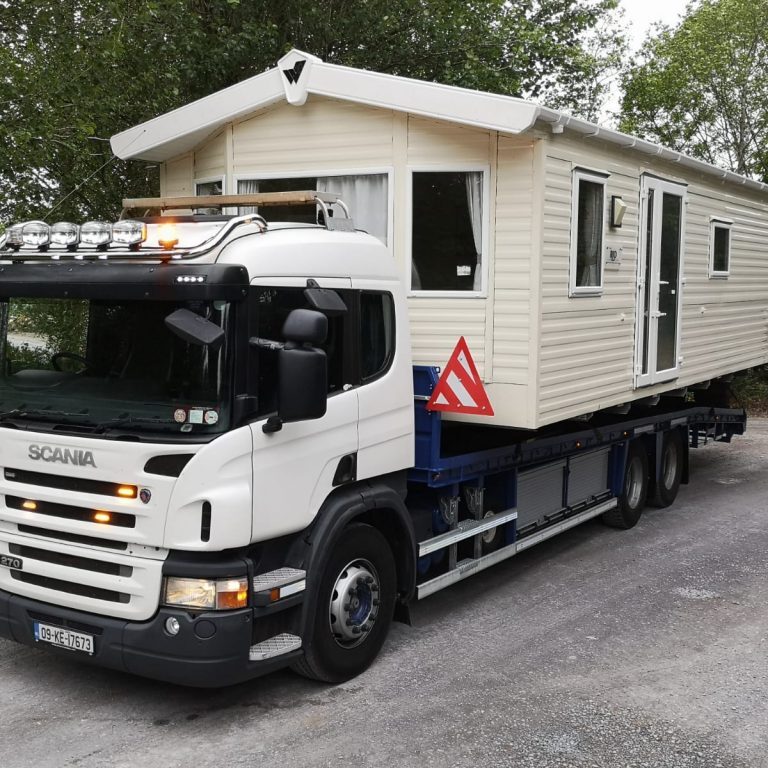 Transport & Delivery
We have a free delivery service for people who buy a mobile home from us. We have a truck service with experienced drivers to transport your mobile home safely from our selling depot to your own private site.
We offer a transportation service for those who own their own mobile home and wish to move it to another location. Prices for transport and delivery are evaluated on the distance of the journey, the accessibility to the site, size of the mobile home and infrastructure.
We require that all mobile homes are disconnected, off blocks and tow bar removed, ready to be loaded on arrival.  We winch the mobile homes onto our flatbed rigid truck.  This is the safest and most efficent way to transport your home.